THE FRONT RANGE CHAPTER, NSDAR, HONORED GREG HAYES WITH THE DAR DISTINGUISHED CITIZENSHIP MEDAL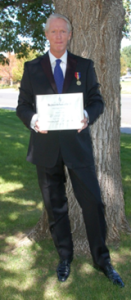 At our Saturday, September 12, 2020, meeting, the Front Range Chapter, NSDAR, honored Greg Hayes with a distinguished citizenship award and medal from the National Daughters of the American Revolution. In some of the narrative from his extensive nomination, the following is why he was given this award.
In response to the 2020 COVID-19 Crisis, Greg successfully planned and established a "Careful Couriers" non-profit to "Drop and Dash" ESSENTIAL items to the front porches of any individual, family, or organization who needed help. His organization is called Friends for Life Couriers.
Greg's original plan was to help find and deliver ESSENTIAL provisions like water, food, medicine, PPE, and limited educational items in Boulder and Broomfield Counties. However, because of demand from Friends in the larger Colorado community, his Mission developed and evolved and expanded into other Colorado areas. His group also arranged international deliveries of food and cooking fuel to Kenya and Bangladesh. He found ways to help and support Friends in need, Friends who are Veterans, as well as Friends who are experiencing homelessness.
Many of our Front Range Chapter members donated time, cash, masks, blankets, clothing, and other goods to veterans, friends experiencing homeless and, others identified by Friends For Life Couriers.
It is with a great deal of pleasure and honor that we were able to give this award to Greg Hayes. Greg is extremely humbled and proud to have received this recognition from the National Daughters of the American Revolution. In fact, he was so moved by this recognition that he was motivated to want to join Sons of the American Revolution and become an active member of that group.
---
HISTORIC PRESERVATION AWARD GIVEN TO LARRY DORSEY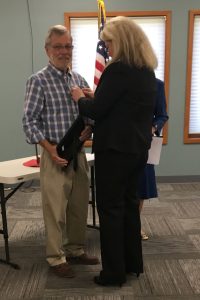 During summer 2019, our chapter nominated Larry Dorsey for his incredible and exhaustive work in the field of historic preservation. The nomination was sent to National and we were not surprised to receive the following letter back announcing that Larry was approved for this award and medal. The letter said, in part:
"This is the most prestigious preservation award the National Society presents to individuals who have done extraordinary volunteer work in historic preservation over a long period of time.  The National Society is deeply indebted to the people who receive this award because one of our major objectives is to preserve our nation's history. Mr. Dorsey's visionary commitment to the preservation of history is truly commendable. Through the generous gifts of his time, determination and knowledge, the history of all this area will be preserved, documented, and enjoyed for many generations."
Some of Larry's activities and accomplishments include:
He was a founding member of the docent program at the Colorado Railroad Historical Foundation and is now a Trustee of the Foundation.
He led the maintenance of the historic Grasso Park in Superior, Colorado. This included the upkeep of many historic buildings: a homestead house, barn, old jail cell, and various out buildings.
He helped locate a miner's house, relocating it back to its home. He helped rehabilitate it into the Superior Historical Museum.
He oversaw the restoration of two coal mine cars now on display in the city.
He has been involved in the protection of Superior's historic cemetery, including headstone restoration.
Every year, Larry coordinates visits to the town's historic properties by 75-100 second grade students from local elementary schools.
He has written many newsletters and articles on historic preservation.
He has developed five historic programs he presents at various venues and gives six-eight presentations each year.
He was awarded the Square Nail Award from the Boulder Historic Society.
The Front Range Chapter was proud to nominate Larry Dorsey for this prestigious award and we were honored to present this award and medal to him at our September 2019 chapter meeting.